WHAT IS SPATIAL DATA TRANSFORMATION PLATFORM (Feature Manipulation Engine - FME)?
FME is a software of spatial data extraction, transformation and loading developed for using specifically with geographic information system (GIS), computed-aided design (CAD) and raster graphic software. (spatial ETL)
This software allows users to;
convert spatial data into various formats

(more than 275 spatial and non-spatial formats),
perform data model transformations,
integrate data in different applications,
exchange and share data from different sources.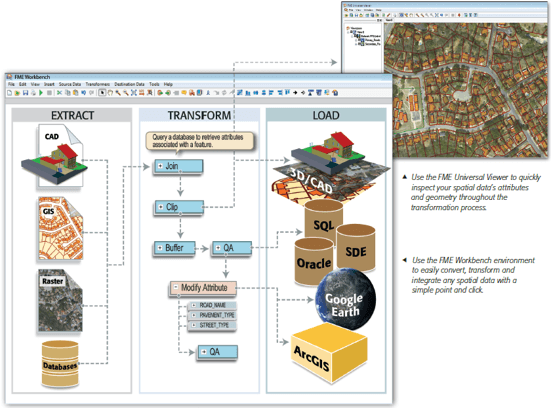 Spatial data transfer between multiple environments
Data consolidation from different sources
Distribution of data to large numbers of users
Data model configuration and transformation
Data conversion from format to format
Spatial and non-spatial data integration
Data exchange from CAD to GIS
Coordinate system transformation support
Data conversion between various "vendor" programs